Innovations of the new PowAirBox II
The supply of electricity and compressed air are important factors for the operational readiness of firefighters and rescue workers. Their vehicles and equipment must be ready quickly and function reliably in an emergency. Fully charged batteries and filled compressed air systems are essential. An automatic ejection of the supply line can save crucial seconds. With this in mind, we developed the PowAirBox a few years ago.
Evolution of the classic
With the PowAirBox, we developed a power supply system that simultaneously supplies electricity and compressed air and has an automatic ejection of the coupling. We are pleased to see how many fire brigades rely on the PowAirBox every day. We want to continue the high reliability and customer satisfaction with the second generation - and further improve the innovative concept.
Slim, smart, robust
Our technicians and engineers have planned, developed and tested. Now we are ready to publish the most important highlights of the new PowAirBox II:
40 % reduced assembly depth (approx. 72 mm) compared to the predecessor

Same width and height as the predecessor for uncomplicated conversion

Full compatibility with first generation couplings

Wear-free plugging and unplugging due to intelligent capacity control

Monitoring of mains function and charging status

Automatic and manual ejection of the coupling, sensor-controlled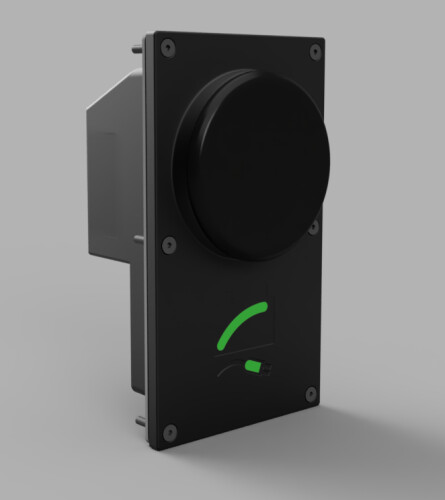 Strong in detail
The innovations are inspired not only by technical possibilities, but above all by feedback from rescue and emergency services. For example, the low assembly depth is an important factor in order to be able to retrofit the system as flexibly as possible on different vehicles. It was also important for us to keep the width and height dimensions the same so that conversion from the first to the second generation is as easy as possible. We achieve greater robustness and durability through capacity-controlled switching on and off, so that no contact wear can occur even with particularly demanding consumers. The capacity electronics of the PowAirBox II ensure wear-free plugging and unplugging through intelligent control, even when the coupling is operated manually.
Absolutely reliable
The PowAirBox II also "thinks for itself" with an intelligent status display, integrated low-voltage monitor, mains voltage monitoring and automatic ejection with start interlock when the coupling is plugged in. Together, these features create a system that can always be relied upon. Our product developer Melf Neimöck says:
Volunteer fire brigades in particular usually have to take care of the removal and maintenance of their vehicles themselves. With its low assembly depth and intelligent safety functions, the PowAirBox II is ideally suited for this.
Market launch and more
If you want to find out more about the new PowAirBox II, you will have to wait a little longer - or visit us at Interschutz from 20 to 25 June. There we will show the PowAirBox II as a digital 3D model. Our team will be happy to advise and tell you more. But don't worry, our website will also have all the information about the PowAirBox II ready for you in due course
Technical data
We are looking forward to the official sales launch of the PowAirBox II and will inform you on our channels as soon as it is ready. Until then, we remain with the most important technical data.
If you are planning acute supply system projects and need advice, our sales team is available for you:
E-Mail: anfrage@leab.eu
Phone: +49 (0) 4621 97860-110