Independent energy supply: innovative and compact power supply system
The Energy Unit is an innovative and compact power supply system that is available in three different versions and provides a large amout of energy. The Energy Unit ensures emergency, special and commercial vehicles to be self-sufficient in operation for a complete day - without having to recharge even once.
Tailor-made mobile power supply
You can choose between three variants of the Energy Unit:
The Energy Unit Split and its components offer maximum flexibility for smaller vehicles.

The Energy Unit Box, on the other hand, is tailored for outdoor use in box vehicles.

As Energy Unit Customized, we can jointly develop a system from scratch and integrate it into your vehicles.
Energy Unit Split – for vans and cars
Small and light
The battery pack - the heart of the system - weighs a maximum of 55 kilograms, depending on the capacity selected, with compact dimensions of only 75.5 cm x 31.5 cm x 9.5 cm (L x W x H). The multitude of possibilities range from the boot to the load compartment to the driver's cab.
It can be installed in various places - no intervention in the body of the vehicle is necessary.
Very quickly installed
The Energy Unit can be installed in just one hour on average - the plug-and-play system makes a lot easier: an extreme saving compared to a conventional system.
High cycle stability
More than 3,000 charging cycles at a depth of discharge of 80 %.
Progressive und universal
Plug-in system, lithium-ion technology as well as it can be used independently of the vehicle's drive type, retrofittable - the Energy Unit can take over the energy supply in numerous vehicles for years.
All round care
In the case of the Energy Unit Split, our MelfBox is used to feed in power. An on-board power distributor such as the PCM4 routes the current to a battery charger. Here we rely on our microprocessor-controlled RBC 24105, which is ideal for charging the heart of our system in a maximum of two hours - our newly developed battery pack. This reliably supplies energy to a wide variety of consumers.
Energy Unit Box – for box vehicles
In contrast to the Energy Unit Split, the Energy Unit Box combines not only the battery, but also all components belonging to the overall system (without optional components) in one housing. In this way, we optimally meet the special ratio of available space and energy requirements of box-type vehicles.
The MelfBox and the remote display are also included in the scope of delivery, ready to plug in for individual placement on the vehicle.
Robust and tailor-made
With its 55 kg and dimensions of 56 cm x 36 cm x 46.5 cm, the Energy Unit Box is ideally suited for outdoor use in box trucks.
High cycle stability
Over 3,000 charging cycles at a depth of discharge of 80 %.
Versatile options
An inverter with an output voltage of 230 VAC? A DC-DC converter with an output voltage of 12 VDC? A DC-DC booster for recharging the integrated battery pack while driving? Simply choose the most suitable option for you.
Heating elements on board
To ensure that the energy can be provided constantly and reliably despite cold outside temperatures, PTC elements are located in the housing of the Energy Unit Box to prevent a drop in temperature of the cells.Energy Unit Customized – ganz nach Ihren Wünschen
Verfügbarer Bauraum, geplante Einsatzdauer, zulässiges Gewicht, spezieller Temperaturbereich: Bei manchen Vorhaben sind die Anforderungen so spezifisch, dass eine komplett maßgeschneiderte Energieversorgung nötig ist. Dies können wir mit der Energy Unit ebenfalls bedienen.
Energy Unit customized – according to your wishes
Available installation space, planned duration of use, permissible weight, special temperature range: for some projects, the requirements are so specific that a completely customised energy supply is necessary. We can provide this with the Energy Unit.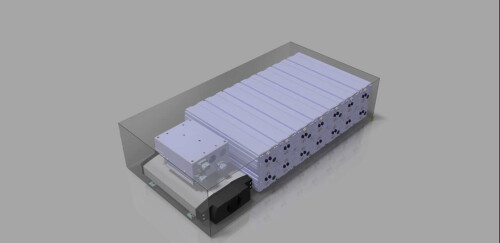 We discuss your requirements and wishes as well as all possible components in a joint meeting. We will then work out a custom-fit solution.
Pdfs with further information
You are welcome to download three different PDFs with further information and explanations about the system: